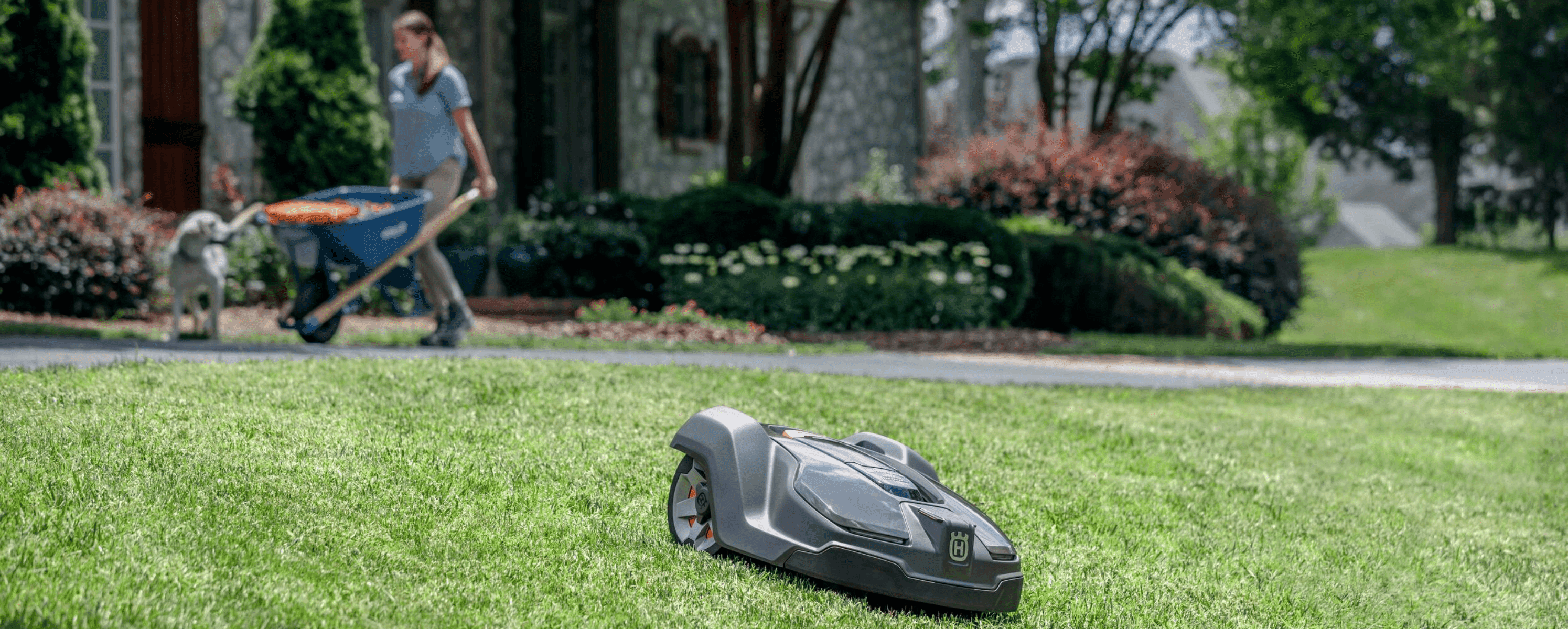 Products & Innovations
08-03-2022
Why You Need an Automower in Your Life: Benefits of Robot Lawn Mowers
If you're in the market for a new lawn mower, why not spend a little more money to get a mower that does everything for you? Why not have the perfect lawn 24/7, 365 days of the year?
As modern technology advances and lawn care automation evolves, Automower® creates and maintains well-cultivated lawns. Robot lawn mowers come with many benefits for home-owners and greenspace professionals alike, freeing up time and reducing the effort needed for a show-home ready lawn all year round.
Automower® owner and professional installer, Dan from Verdurous Gardens reveals why he finds robot lawn mowers so beneficial for the modern home and garden.
"So many people are time-poor! We have all at some point struggled to find the time to take care of the lawn, and all we can do is just watch it get longer and longer. A robotic lawn mower can do it for you, freeing up that all-important time to spend with family and friends."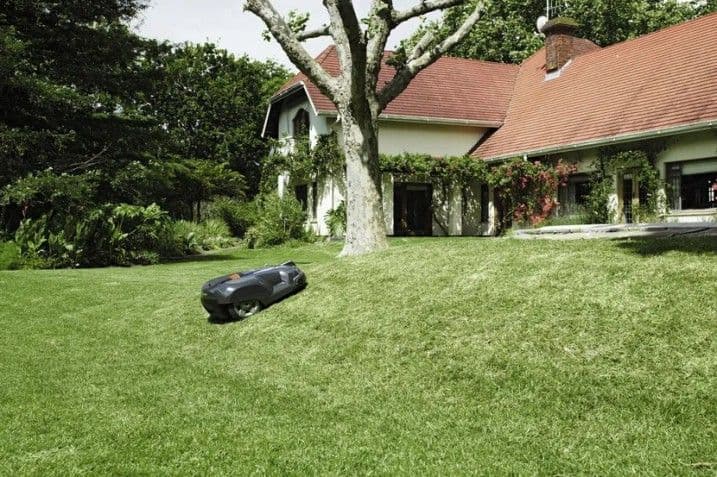 Reduces lawn care labour
Just think, if you hire a greenspace business or lawn mowing service to mow your lawn at $50 a week, on average, you can quite easily recoup the cost of Automower® and its installation within the first year. The addition of a 5-year warranty further increases the savings home-owners can enjoy.
When you purchase a robotic mower, its installation also needs to be considered. There are a couple of ways for this to be done including the option to purchase a self installation kit which will outline the proper steps to follow similar to the steps outlined in How To Install Your Automower® guide. However, if your lawn is a little more complex, Dan would recommend paying a professional to ensure your robotic mower is all set up and running smoothly from day one.
Looking beyond the savings Automower® can provide, there are also the hours that go into feeding and mowing - which can easily amount to several hours a month. Maybe you would prefer to spend more time with family and friends, working on a project or enjoying your hobbies while the robot lawn mower keeps your lawn in immaculate condition.
One of Dan's favourite Automower® benefits is that it powers through just about every type of weather condition. From rain and fog to wind and drought, it keeps on top of the mowing so you do not have to. What about summer time when your grass grows quicker? Automower® Weather Timer is a useful feature designed to optimise your mowing experience depending on the season. Want Automower® to mow while you sleep? With its whisper-quiet motor you can, and it won't even annoy the neighbours. Basically, robot lawn mowers eliminate the need for manual mowing, giving owners more time to do what's important to them. "Personally, my Automower® runs at 4 am every morning, and I walk out to go to work at 5.30 am every morning. I live in suburbia, and I haven't had a single complaint yet. I guess that speaks for itself."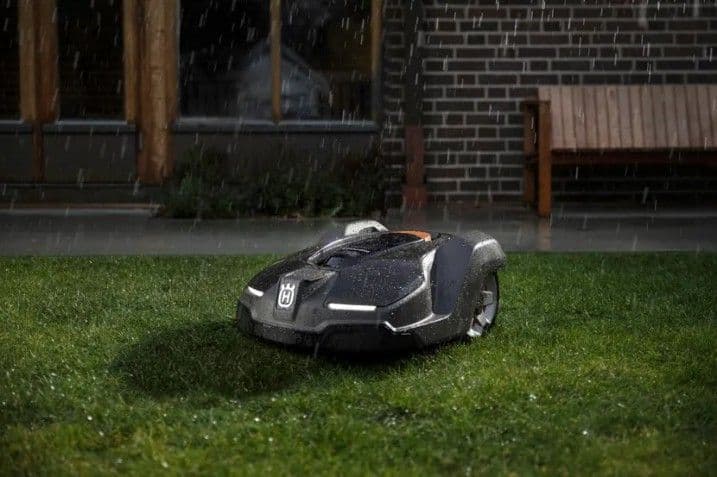 Smart home integration & connectivity
On select models, Automower® is smart home ready and can be controlled from a variety of home and mobile devices. This means you can control the schedule no matter where in the world you are. Plus, with in-built technology such as GPS assisted navigation, ultrasonic object detection sensors, anti-theft technology, automatic passage handling, spiral cutting, weather timers and much more, all bases are covered..
Dan mentions "it's definitely handy. For example, we just had torrential rain. If you don't want your mower out in the rain, you can be at work and tell it to go park itself and not worry about it for the day"
Connectivity & Control
Google Home
Amazon Alexa
IFTTT Applets
Android & iOS
Android & iOS
How to connect to Google Home*
Tap on the (+) icon in the Google Home app and then on 'Set Up Device'.
Next, tap on 'Works with Google' then search for 'Husqvarna Automower®'
If you're not already logged in, you'll need to do so before continuing
Once logged into the app on your device, tap 'Authorise' to connect it
Name your Automower® in the app. My mowers > mower details
Name your Automower® in the app. My mowers > mower details
To start Automower®, say 'Hey Google, start Automower'
Say 'Park Mower' to park Automower®
Get status updates by asking, 'What's my mower doing?'
How to connect to Amazon Alexa*
Download the Amazon Alexa App to your mobile device, then sign in
Open the app, then tap on 'More' then on 'Skills & Games'
Open the app, then tap on 'More' then on 'Skills & Games'
In the search icon, enter 'Automower' then tap search
Tap on 'Automower', then tap on 'Launch'
Enter your Automower® Connect account credentials
Tap on Sign in > Authorise > Close
Tap on Sign in > Authorise > Close
You can now ask Alexa to mow the lawn, park the mower or pause.
*Only works with X-line models and standard Automower® equipped with the Automower® Connect Kit.
Have a question about Automower®? Have a look at the Automower® FAQ page.
Reduces your carbon footprint
A key selling point with a lot of Dan's clients is that Automower® has been designed to reduce your carbon footprint with the latest technology, design and accessories. Using battery power to navigate around your lawn, trimming it to perfection, there's no oil, no petrol and no direct emissions involved. Razor-sharp blades cleanly trim grass, mulching it back into the ground, minimising the need for fertilisers and chemicals. The more it mows, the more your lawn is naturally fed.
"Along with zero direct emissions, Automower® is whisper-quiet. With the lowest perceived robot mower noise levels on the market, your neighbours won't be disturbed by it, whether it's running day or night. Compatible with smart devices and coming with various inbuilt safety options, you have total control over the entire mowing experience. Basically, it's quieter, cleaner and more efficient than manual lawn mowing."
Perfect cut & finish year-round
As Automower® can mow every single day, extensive growth becomes a thing of the past. Instead of allowing the grass to grow too tall, it cleanly trims millimetres off at a time, mulching tender blades back into the soil to feed the root system.
Automower® blades are durable but fine, meaning they don't break, bend, tear or shred the blades of grass. This provides a much cleaner cut, minimising bruising, shock and moisture loss. In turn, the grass is chopped into tiny fragments, which are easily broken down in the soil and provides a boost of nitrogen, phosphorus and many other essential nutrients back to the roots.
Automower® can be run on a set schedule seven days a week and achieving a dense carpet-like finish is entirely possible. From the smallest patch of lawn all the way up to 5000m2, Automower® can create a show-turf finish without you ever needing to manually mow the lawn again. Of course the robotic mower you need for your lawn will depend on its size, gradient, obstacles, etc. But once you find your perfect match, enjoy spending time in the garden without the backbreaking effort that goes into maintaining it.
You set the amount of time that it needs to efficiently mow your lawn. Then, if you like, you can add or subtract hours, depending on the season or weather.
On the subject of the perfect finish, Dan's wife wasn't convinced that Automower® could really live up to it - until it was installed. "Before Automower® was installed on our property, my wife was very skeptical. But since its installation, even she has become a lawn snob. I turned the mower off during the really bad rain for four days. And she started asking what is wrong with the lawn? You just become addicted to having the perfect lawn at all times."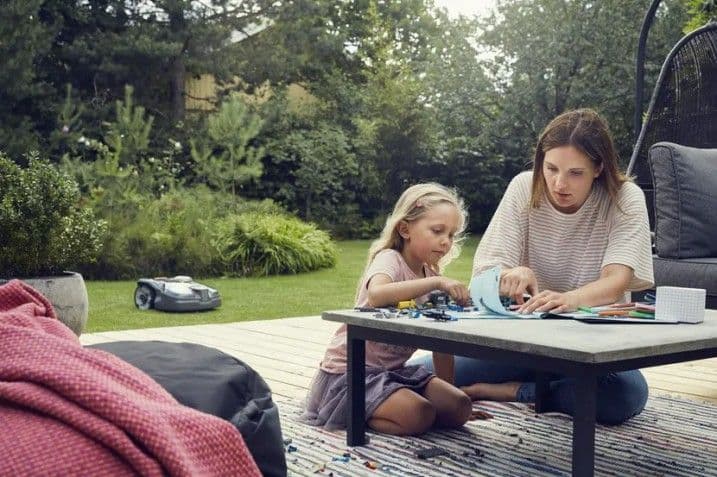 Reclaim your leisure time
Robot lawn mowers free up hours of time spent mowing the lawn. We know every lawn is different, which is why Automower® comes in many different models. Covering small courtyard lawns to large grounds up to 5000m2, complex lawns and unique spaces get full coverage, giving you more time to do what matters most to you.
Find your perfect match today.